Renewed Balance®
Body Cream
Your Satisfaction is Guaranteed!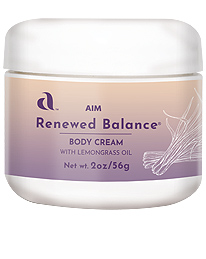 Women, and their husbands, have loved this cream since 1996. It is amazing how a little dab of cream can make such a difference. Renewed Balance is great stuff.

This cream can still be ordered here.



Renewed Balance comes in a 2 ounce jar. One Renewed Balance will typically last 2-4 months depending on the amount of cream used per day.



Ingredients: Water, caprylic/capric triglycerides, glycerin, glyceryl stearate, stearic acid, real / natural progesterone, cetyl alcohol, tocopherol, phenoxyethanol, caprylyl glycol, acrylates/acrylamide copolymer, soybean (Glycine soya) oil, disodium EDTA, rosemary (Rosmarinus officinalis) leaf extract, sodium hydroxide, citric acid, lemongrass (Cymbopogon schoenanthus) oil, carrot (Daucus carota sativa) root extract, beta-carotene. No mineral oil — Not tested on animals.

note: As can be seen, Renewed Balance does not contain Methylparaben, Propylparaben, or Propylene Glycol found in many creams.

We are completely satisfied with this cream. It quickly absorbs as it is not a heavy cream, and we have received constant good reports from satisfied users since 1996. There is a money back guarantee and it ships quickly. You owe it to yourself to give it a try. Loren

We are no longer able to use the term "USP certified", or mg, or a number of other terms on our label or in advertising - because we've been told to do so would make this product a drug. For more information please email us.

Why the hassle? It is pretty simple. First Timothy 6:10 states "For the love of money is a root of all kinds of evil, for which some have strayed from the faith in their greediness" Or put another way, legal terrorism by wealthy corporations via government employees. Pray God exposes it and that righteousness prevails. God is a rewarder of those who diligently seek Him!